As April drew to a close, the crypto market began experiencing a downward slide, and it has only become steeper as May has progressed. In the face of this bea market, Algorand (ALGO) has stood out from the pack, raking in gains while other cryptos collapse.
Algorand (ALGO) Soars in a Bearish Market
Reacting to interest rates being increased by the Fed, the crypto market, led by Bitcoin, fell to its lowest point since January. However, Algorand (ALGO) quickly recovered from its 11% fall on Thursday to continue to rally.
As part of its recovery, Algorand (ALGO) rose from its Thursday low by 9.93%, reaching $0.7488 before continuing its rally on Saturday, when it gained a further 7.39% in value to set a four-week high at $0.7812.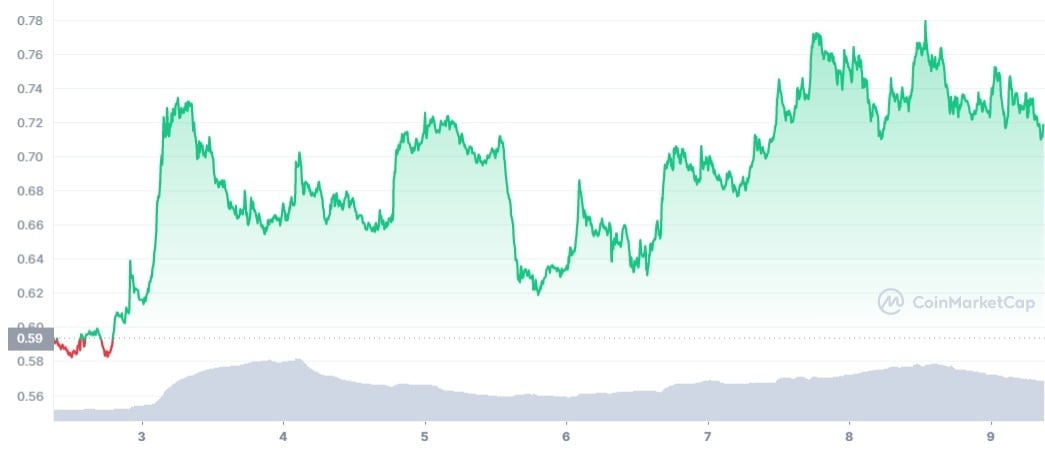 The seven day price chart for Algorand (ALGO). Source: CoinMarketCap
Having opened for trade at $0.59 last week, ALGO rallied to as high as $0.7812, before retracing to its current price of $0.7185 at the time of writing.
Staking Demand for Algorand (ALGO) Rises
Algorand's recent rally is partially linked to the rising staking demand being experienced by the Altcoin. According to data from DeFiLlama, Algorand's total value locked (TVL) has risen by 15% in the last week, and by over 31% in the last 30 days, reaching $205.49 million.
The Total Value Locked (TVL) in Algorand. Source: DeFiLlama
Algofi, a DeFi platform that allows users to lend ALGO on the protocol to earn ALGO, has seen the biggest increase of the network. Algofi now has a dominance of 61.44%.
Earlier in the week, FIFA announced Algorand as an official blockchain partner for the upcoming FIFA World Cup Qatar 2022.
Algorand's impressive price can be attributed to its increasing utility and partnerships, which are predicted to boost its reputation and drive mainstream adoption.